Pumpkin Spice Secrets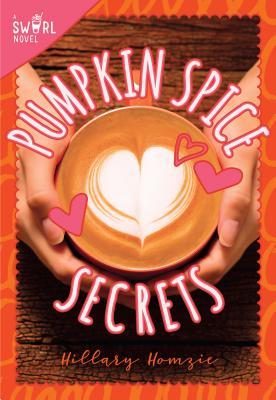 Publisher:

Sky Pony Press
Published:

September 12th, 2017
Source:

Thomas Allen & Son
(thank you!)
My Rating: 3.5/5
"Swirl books are the perfect flavor: A sweet blend of friends, crushes, and fun. Curl up and take a sip!
Synopsis
Just as Maddie picks up her favorite pumpkin spice drink from the coffee shop counter, she spills it all over the cute guy standing behind her! Luckily, her embarrassment evaporates into a crush when she starts chatting with him -- his name is Jacob, and he's just starting in her grade at her middle school.
But before Maddie can tell her best friend Jana about him at lunch the next day, Jana announces her huge new crush -- on the same guy! Maddie doesn't want to cause trouble, so she keeps her feelings hidden. Jana will get over her crush soon, right?
Add major school stress to Maddie's secret, and it's a recipe for disaster. Can she keep her cool and work things out with both Jacob and Jana before it all turns into a total mess?"
My Thoughts
I was asked to review this book by the Canadian distributor, this in no way influenced my review
The audience of this book is definitely younger then I am but I tried to take a more balanced approached when I was reviewing. I did really enjoy it but I think the story would have a lot more impact for the target age (middle school).
First off the title and cover of this book are so cute! I could definitely see kids picking this book up just because of that which is always a great thing- kids have to pick up the books in order to read them! The other great thing is that this is a series of books (A Swirl Novel), which are all themed after hot drinks!
Even though this books seems like it would just be super cute and fluffy, it deals with some pretty important things for middle grade students but it doesn't come off as too patronizing. I love how Maddie was so concerned about her friends, and at times was a little over dramatic. That's so realistic and I feel like a lot of my students can relate to being in similar situations- a first big crush, trouble with friends and trying to balance all of that with school and home life. I also found her anxiety around debate was something that a lot of people can relate too!
The other characters were also very well written: Jacob was a sweetheart and a little bit confused about what was going on most of the time, Jana was a lionhearted and made things happen! Each of them had their own strengths and weaknesses (sometimes the same thing was both) and they had to figure out how to work with who they were.
I LOVED that the sort of message behind this book wasn't about trying to change who you are to fit it. Middle school is such a tough time and lots of things tell people that who they are isn't enough. This book celebrates the uniqueness of each character and shows how when they are themselves, they can truly shine. The teacher in me loves this message and wants all my students to understand it- what better way to teach then to read a book!
I would definitely recommend this book to teachers who want to add to their classroom library, parents looking to get their kids into reading and to kids who want a realistic but fun book about being in middle school, having crushes, and friendships!
I recreated the cover of this book and then realized my hands were upside down compared to the actual cover!
Below I have two special extras to share thanks to the wonderful people at Thomas Allen & Son. The first is MY favourite drink recipe:
And the second is an sneak peek at Book 2 in the series- Peppermint Cocoa Crushes- Enjoy!