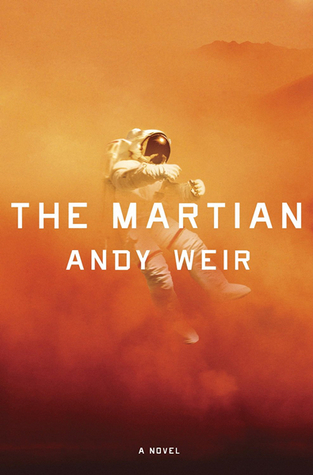 Published:
February 11th, 2014
Synopsis
Six days ago, astronaut Mark Watney became one of the first people to walk on Mars. Now, he's sure he'll be the first person to die there.
After a dust storm nearly kills him and forces his crew to evacuate the planet while thinking him dead, Mark finds himself stranded on Mars' surface, completely alone, with no way to signal Earth that he's alive — and even if he could get word out, his supplies would be gone years before a rescue could arrive. (
x
)
My Thoughts
Storytime: I bought this book for my brother (a chemical engineer) in September and it turns out he bought it for our dad (also a chem eng) for his birthday in November! I was slightly miffed but it turned out okay because he loved it! I ended up borrowing it from my dad and then when I finished my mom also read it!
I am a chemist, so I was really looking forward to the science aspects of this book, and I am a sucker for space so it seemed like the perfect fit for me. Probably me favourite thing about this was the level of accuracy in the science- almost all of it was very plausible and while the story line was super compelling the science also made me happy!
You don't need to have a science background to read this book, but if you do (whether its computer programming, chemistry, biology, physics, engineering or anything else) this book is a super fun read. It's not very often that you find a science fiction book with such good and (mostly) precise science. Combine that with an engaging and sassy main character and anyone can just fly through this book! All 4 members of my family who read it has experience in different fields of science, and varying levels of knowledge in it, but all of us loved it.
This book had so many great one liners that had me giggling and smiling at them, without a doubt Mark Watney definitely has the 'engineer quality'. I know several engineers and they generally tend to have a very distinct personality/sense of humour so I found that Watney was very realistic and well-written. The storyline itself was also very well written, fast-paced and engaging and even my dad and brother (who are normally slow readers) finished it in record time. It just has the quality that it pulls you in and you can't put it down until you finish- you just need to know what happens to Mark!
There were many dinner conversations at our house discussing the various experiments and maneuvers pulled off by Watney, which of course led to the discussion question- could you survive on Mars? The general consensus was NO but really any one of us getting stranded on Mars would be amazing enough
I would highly recommend this book to sci-fi lovers, people looking to try out sci-fi, anyone who loves science (whether they understand it or not!)