Gone Girl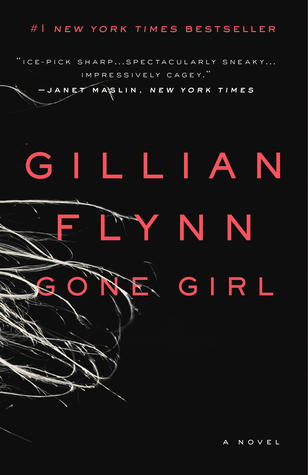 Published: April 22, 2014 (originally published Jan. 2012)
Publisher
: Broadway Books
Source: Bought
Synopsis
On a warm summer morning in North Carthage, Missouri, it is Nick and Amy Dunne's fifth wedding anniversary. Presents are being wrapped and reservations are being made when Nick's clever and beautiful wife disappears. Husband-of-the-Year Nick isn't doing himself any favors with cringe-worthy daydreams about the slope and shape of his wife's head, but passages from Amy's diary reveal the alpha-girl perfectionist could have put anyone dangerously on edge. Under mounting pressure from the police and the media—as well as Amy's fiercely doting parents—the town golden boy parades an endless series of lies, deceits, and inappropriate behavior. Nick is oddly evasive, and he's definitely bitter—but is he really a killer? (from
Goodreads
)
My Thoughts
So I'd heard a fair amount of hype about this book before I decided to buy. When I did buy it I wasn't even really sure what the exact storyline was but I thought I would give it a try. I will say that I did have the plot slightly spoiled for me because I'd seen several references to Taylor Swift "gone girl"-ing herself in her newest video Blank Space.
I will say that I didn't find any of the characters very likable. I mean Nick is an asshole and Amy's just off her rocker. They don't really have many likable characteristics but I was still very engaged with the story because I really needed to know what happened. It was extremely well written (almost scarily so), if it wasn't so well written Flynn would not have been able to pull off this crazy story. In a way Gone Girl reminds me of the books I had to read for English class that were absolutely crazy (Heart of Darkness or the Stranger- anyone?) but at the same time I actually wanted to finished it because I just needed to know.
There is just something there that grabs you and draws you right into the story, I felt so involved with it at times. I can't say really either way that I loved it or hated it- I think my brain just needs a lot of time to process the story and all that happened in it. Because I whole lot of things happened! It was very twisty and turning and had me holding my breath!
While it did keep me interested and engaged I feel like this book is the kind that I would be perfectly happy borrowing from the library, read it and then never read it again.